---
"Klingson" Hammerschmidt's "Spezial"
Burgau, Bavaria; 1950's(?); seamed tube, silver plate, drawn tone holes; ebonite reform embouchure; palm crutch; sl 598mm; 461g; .014"h .017"b

Best I can piece together this flute was manufactured in Burgau, Germany by Karl Hammerschmidt and Sons. Karl Hammerschmidt began making woodwinds as early as the 1870's. He originally worked in Schönbach and later as Karl Hammerschmidt & Söhne in Walzkenreuth bei Fleissen. The move to Burgau, Schwaben doesn't appear to have been until after the mid-1940's. For no good reason whatsoever I'll assume this beast to be from the early Burgau era.
---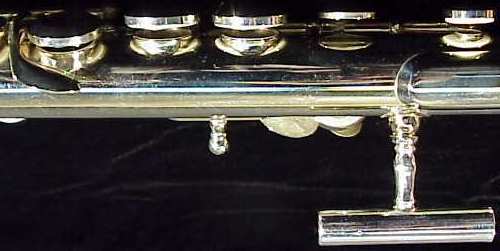 This is a fairly heavy and stiffly sprung flute, an odd mixture of delicate precision and robust rakishness. The comfortable knuckle rest, palm crutch and ebonite reform lip make this flute fun to hold and to play. The tube appears to be seamed construction made of a plated alloy, but I am not even certain of this. After polishing, it soon develops a golden patina unlike other flutes I've owned.
---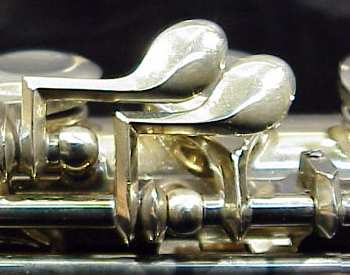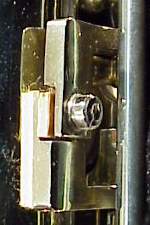 Not afraid of right angles, the Hammerschmidt flute adds an upper R1 touch to duplicate the L3 (G) action.

The back connector has an oversize cylindrical adjuster housing boldly superimposed on what is otherwise a study in rectangles.

The less ostentatious adjusters are much more delicately placed, as is this Bb adjuster of the left thumb cluster. Notice also the elongated steel to reduce lateral movement of the pad cup as the mechanism wears.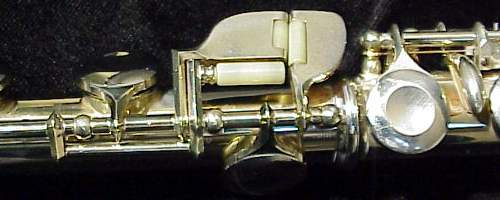 In a final concession to human frailty, the footjoint adds ebonite rollers to the D# and C# keys.
The wide oval of the ebonite embouchure and heavy walled body give the flute a dark, almost wooden sound, with the thinner wall thickness of the head helping to bring out the upper harmonics when called for.
This flute was found in a music shop near Chicago when a college student was hired to do inventory, no one remembers when it arrived. The finish looked atrocious, corks, pads and felts were shot, and a pivot screw was missing -- I never dreamed it would clean up into such an attractive, responsive and just plain fun instrument. (Thanks again to Jim Gleason at Old World Music for the overhaul!)

---
GoferJoe's Flutes
Personal Page
GoferJoe's Arts Burrow
Images © J. W. Sallenger