---
Marigaux
Serial # 1359; Paris; 1950; silver thinwall body & mechanism, drawn, gold springs; sl 599mm; 426g; .013"h .013"b

---

Marigaux joined forces with Strasser and Lemaire in 1934 to create Éstablissements S.M.L. In 1951 S.M.L. purchased the Louis Lot name and mark. While concentrating on other wind instruments, the firm made a few truly fine flutes.
This thinwall flute (.013") has the engraving on the tube instead of the box, and sports a tastefully ornate crown with the rounded underbelly found on some French flutes.
The pad cups are quite shallow, deserving of thinner pads than those currently fitted.




Even so, the action is so light and responsive that the flute almost anticipates the music.
---
There are numerous hallmarks scattered throughout the keywork. On the shaft of the thumb key at right you can see the bear-shaped "boar's head" imprint used by the Paris assay office from 1838 to 1961.

The maker's logo is <SML> inside a diamond with # under the M. It appears on the Bb shake as well as the thumb key.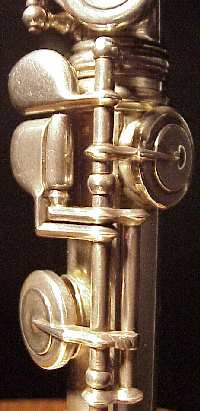 There is one lonely adjustment screw on the flute. In the image of the foot on the left you can see the screw to adjust closure of the C# when the C roller is depressed. Why only one adjuster? You got me there.
Craftsmanship is very good throughout, right down to the way the back connector is nicely finished with a touch of élan. This made me believe this flute was probably made using resources acquired following the acquisition of the Louis Lot firm. Not for the first time, I was mistaken (see additional information below).
One interesting bit of provenance. In preparing the flute for shipment to me, the former owner left the flute on a cloth on his work table while his grandchildren played on the far side of the table. One child pulled the cloth, imparting a roll to the flute which carried it off the edge of the table. As it fell, one end bounced off an upholstered chair seat, imparting considerable angular momentum to the flute, which landed crown-first on the floor. The thinwall body wound up with a pronounced banana shape. After the keywork was removed, the body straightened beautifully. The box (or barrel), however, still has a slight tilt which allows the headjoint to list towards the player. It doesn't affect performance, and is only noticeable when sighting down the instrument. We'll just say this French flute has attitude and a jaunty personality....
---
I have two plated SML flutes I believe to be prior to the LL acquisition, an unnumbered "Alliance" model and a "Stramalux" model #907. I have also studied and a plated "Marigaux" flute with a somewhat later serial number. These are great fun to play, but have adjustment screws and lack the delicate craftsmanship of the solid silver "Marigaux" model #1359. This originally led me to I believe the Marigaux was directly influenced by the Louis Lot acquisition, but Bernard Duplaix took the trouble to investigate and I now know this flute was made in July of 1950, just prior to the L Lot shop purchase. I suppose at this time the SML folk were seriously gearing up to try their hands at the professional flute market. Thanks Bernie!

SML went on to make a line of (mostly plated?) flutes at about this time with the Louis Lot imprint. I believe they probably continued with the SML serial number series simply for their own convenience, thinking it would be far more pretentious and confusing to switch to the Louis Lot sequence. Don't assume this was done to mislead anyone into believing he was purchasing a desirable rarity. Remember, in France in the early 50's vintage flutes were in every pawn shop, and SML was in the business of selling people nice shiny new flutes to replace their worn out old antiques :-)
---
GoferJoe's Flutes
Personal Page
GoferJoe's Arts Burrow
Images © J. W. Sallenger