---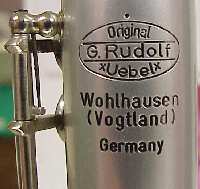 G. Rudolf Uebel
116-69-1481 (Model 116, made in 1969, S#1481); Wohlhausen im Vogtland; aluminum body w/ silver plated German silver head & mechanism; sl 597mm; 532g
The Uebel family's history of woodwind instrument making dates back to the 1870's in the Sachsen region of east Germany near the Czech border, an area long renown for musical instrument craftsmanship. Gerhard Rudolf Uebel (1915-1991) took over flute production when his uncle F. Arthur Uebel passed away in 1963. Not to be tied to simply reproducing traditional flutes, Uebel made a number of innovative instruments, beginning in the 1930's, using materials from grenadilla to aluminum.

---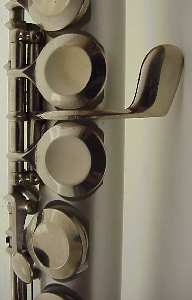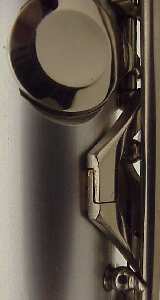 Thick aluminum stock is used in the footless unibody construction, tapering at both ends (remember the Artley "fat flute" ads from the 1960's?). As on wood instruments, tone holes are recessed into the body. Mechanism is strapless, with posts set directly into the aluminum.

---


Note the very modern yet completely ergonomic styling to the trill keys, foot cluster, back connector, pad cups, etc. Whenever a circular arc would not suffice, an angle would replace another flutemaker's complex curve.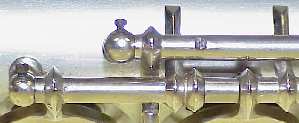 A decidedly different approach to "pinless" construction -- tiny set screws replace pins in joining keys to steels, and are also employed to prevent slippage of adjustment screws!
---
The nearly crownless, uncommonly long, almost ugly plated headjoint seems to be the weakest design element of the flute, making it uncomfortably bottom heavy and clumsy to balance. I had an adapter made to use other headjoints with this instrument, giving it a new lease on life.

Since the Uebel headjoint is absurdly long, any decent instrument repairman should be able to make an adapter so you can use your favorite headjoint on the Uebel. I explained what I had in mind to my repairman and left him the flute and the headjoint I wanted to use. He fitted a 17.2 cm section of tubing to match the flute body opening then, using his dark arts, he expanded the other half to accommodate my chosen headjoint. ( I believe he may have crafted the adapter from a section of a junk headjoint -- claims it only took him a few minutes.)

The action is sure and clean, and the aluminum body darkens the sound nicely. In summation, the more time spent with this flute, the greater one's appreciation for the innovation and design (and the less apt one is to consider it a mad flutemaker's experiment gone horribly wrong).

An East German flutist touring western Europe decided not to return with his orchestra to the DDR, parting reluctantly with this instrument to raise money to stay in the west (but keeping his "real" flute so he could earn a living). Must have used steroids to pick the beast up.

Check the wooden reform flute by G. R. Uebel (same maker, or a relative in Erlbach?) on David and Nina Shorey's Field Guide to Antique Flutes (and enjoy their inimitable prosaic style)! Compare also with the modernistic design of the Italian Rampone & Cazzani MOD 2002.

---
Thanks again to Jim Gleason at Old World Music for his assistance in getting this instrument back into playing form and fabricating the headjoint adaptor; to Peter Spohr for supplying date of manufacture; to Luc Verhoeven for filling in some family relationship gaps; and to Andrea Bruderlin of Music Treasures for scaring up this beast for me in the first place!

---
GoferJoe's Flutes
Personal Page
GoferJoe's Arts Burrow
Images © J. W. Sallenger