"Strapless" mechanism with posts soldered directly to flute body.
William Winthrop Haynes

The Haynes Flute Co., Incorp.


Serial # 365; Boston; 1920; solid silver, drawn, strapless, C footjoint; sl 603mm; 459g; .017"h .021"b.
---
Where to start with this bit of flute history? A few facts and a bit of scuttlebutt should get the ball adjusters rolling. I'll put down a little of what I think I know, and then wait for the experts to correct me....

William Winthrop Haynes (1890-1960) was the son of noted Boston flutemaker William S. Haynes, apparently much to the chagrin of both. After working for some years in his father's shop, young William was discharged in 1913 and became estranged from his father. Not all that unusual for a 23 year old, especially since his father seems to have left his wife of 40 years and married Lola, his attractive 25 year old shop secretary. (By the way, 1913 is also the year Verne Q. Powell joined the W. S. Haynes workforce.)

Young William did not disparage his father's profession, nor did he object to capitalizing on the old man's reputation as a premier flutemaker. He immediately opened his own shop with every intention of manufacturing quality flutes in direct competition with his father, and he managed to get some impressive testimonials from professional musicians of the day. The flute battles began in earnest, with father deriding the inferior impostor flutes (such as those made by William W. Haynes & Co.).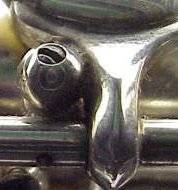 "Ball" shaped adjusters on WW Haynes #365 flute above are similar to original Boehm design..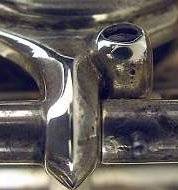 "Cylinder" shaped adjusters on WS Haynes #6984 (1922) commercial model.