Rudall Carte & Co. Ltd.
Bass Flute in C
London; c.1964; Serial # 8854; silver plated silver head and body tube, drawn toneholes, plated nickel silver bends and mechanism to low C; bore approx. 1.12", 1188g

After over 70 years as Rudall Carte & Co., the preeminent London flute shop was acquired by the Boosey & Hawkes amalgamation in the early 1940's. The RC&Co name continued in use, but flute output had dropped to less than 200 per year. I conjecture that this flute was made in the mid-1960's and choose 1964 simply because I like the sound of that most excellent vintage.

Beauty is in the eye of the beholder, so either you are immediately smitten with the sculptural form of this instrument or you assume Swmbo (She Who Must Be Obeyed) became very annoyed at this flute, or me, or both. (Thanks for this observation, Mark!)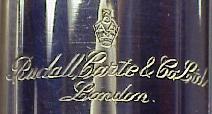 Once the flute is balanced in the hands it is very comfortable to play despite its weight. Finger position with the left palm rest is surprisingly ergonomic and the extension of the right thumb rest balances the flute when placed on a flat surface. The Schwedler-lip-on-steroids begins to feel comfortable with play, and in addition to centering the mouth the side ridges seem to help channel air from the more open and relaxed embouchure required of the bass flute. It has quite a good scale for its day and a full three octave range. C2 and C#2 at the top of the bottom octave tend to be a bit flat on my flute, so for sustained notes I tend to finger the notes down an octave and overblow. What this flute may lack in bottom end projection (when compared to the very best modern bass instruments) it more than makes up for in personality and élan.
Unlike many low harmony flutes, this instrument has actually seen considerable use -- yet virtually no abuse. There is some plating wear to the keys, but the body is in excellent shape and the mechanism remains quite crisp and responsive.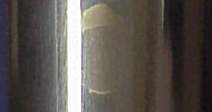 On close inspection, the only real blemish appears as a slightly discolored spot on the headjoint. When playing the retuned Rive flute I suddenly realized the blemish was almost certainly a small, very professional patch in the silver to fill in where a microphone/transducer had once been installed to boost the volume of the flute in performance and/or studio recordings.

---